A historical journey into the heart of polar bear country.
"This was an amazing experience." — CZ, Vancouver, B.C. TripAdvisor Review

Dates & Rates | Location | Itinerary
Similar to our Hudson Bay Odyssey at Nanuk Polar Bear Lodge (see video below), but with the added experience of swimming or kayaking with beluga whales in Churchill, the Arctic Discovery will profoundly re-establish your place in nature by immersing you through time into the pristine and untamed wilderness of the Canadian Arctic.
Your adventure begins in Churchill, where you will kayak with beluga whales, explore historical sites and learn more about this fascinating port town, gaining an exceptional glimpse into the lives of the explorers who braved severe hardships hundreds of years ago to deliver the bounty of the world's most luxurious furs to wealthy Europeans.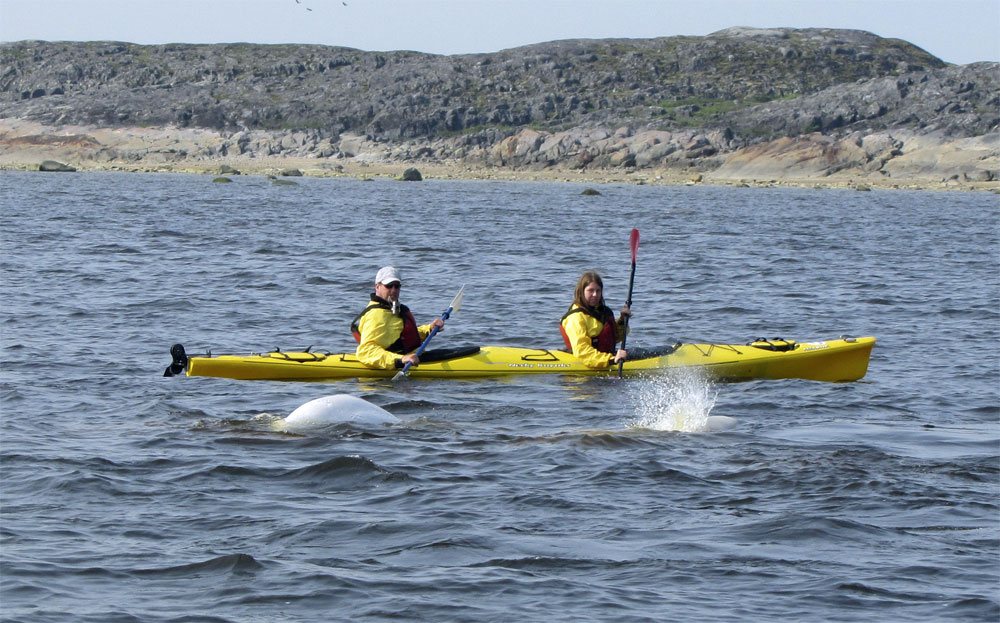 You will then be transported to the remoteness of our Nanuk Polar Bear Lodge, deep in the wilds of the Hudson Bay coast, for wildlife viewing that includes polar bears, black bears, wolves, moose and an abundance of bird species. The convergence of the boreal forest with the tidal flats of Hudson Bay plays host to an incredible richness of wildlife, and it is here that you will be humbled by face-to-face encounters with the undisputed lords of Arctic, the mighty polar bears.
Trekking among polar bears is a daily part of the Churchill Wild experience and excursions range from a short jaunt to get up close and personal with a pair of polar bears sparring to day trips further afield in our custom designed tundra vehicles. And it is not uncommon for bears to saunter up to the perimeters of our secure Arctic home, providing opportunities for rare personal interactions with bears that you will cherish for a lifetime.
You can also enjoy the greatest light show on earth at Nanuk Polar Bear Lodge. The northern skies are a perfect ballroom for the aurora borealis, but remember they're best photographed with a tripod, so if you have one, bring it along.
The Churchill Wild culinary experience provides the metaphorical icing on the cake for your Arctic Discovery. Your taste buds will delight, whether you are indulging in some of our appetizer specialties such as succulent bacon wrapped caribou or dining on one of our many exquisite entrees accompanied by hand-selected Canadian wines.
The windswept landscapes of Nanuk will soothe your soul, the polar bears will awaken your spirit, and together, we'll create beautiful memories.
Arctic Discovery - Dates and Rates
2017 Dates
Aug 6 – 14
Aug 10 – 18
Aug 14 – 22
2018 Dates
Dates to be released April 1, 2017
| Price (per person) | Single Private Room | Children |
| --- | --- | --- |
| $10,895 CAD | $20,195* CAD | $9,795 CAD |
Prices are subject to applicable taxes which are 6.5% for non-residents and 9% for Canadians. Children from ages 8 to 12 qualify for the child rate.
* Single guests can sign up to share a room with another person of the same gender at the regular rate per person based on double occupancy. If a single guest prefers to have a private room option we also have a single private room rate as listed above. This rate guarantees a private room at the Lodge as well as at the hotels required within the package.
Location
Nanuk Polar Bear Lodge is located 250 km southeast of Churchill, Manitoba on the Hudson Bay coast near the historic York Factory. A relatively new destination offered by Churchill Wild, we are particularly proud of this lodge due to the phenomenal wildlife access it provides.
Recent upgrades to Nanuk Polar Bear Lodge include a new lounge and dining area with panoramic views of Hudson Bay, and a cozy fireplace for added ambiance. Heated private guest rooms with ensuite bathrooms are cozy, wild and perfectly comfortable.
Nanuk's star attractions are polar bears – more than you are likely to encounter anywhere else on earth, and we have been overwhelmed by the abundance of bears and other wildlife in the area. Sightings have consistently exceeded our expectations. Additionally, Manitoba Conservation officials recently discovered a large number of denning females in the area that may be equal or great in number than those found in Wapusk National Park.
Itinerary
9 Days, 8 Nights
The Arctic Discovery includes two nights in Winnipeg, two nights in Churchill and four nights at Nanuk Polar bear Lodge, as well as round trip airfare between Winnipeg, Churchill, and our Lodge.
Day 1

- Anticipation Builds during your overnight stay in Winnipeg!

Arrive into Winnipeg where you will enjoy a relaxing stay at our choice hotel – THE GRAND by Lakeview at the Winnipeg airport.  To start off your northern Manitoba experience you will enjoy a tour of the Manitoba Museum in the Arctic Gallery and get a behind the scenes tour of the Vault to see historic York Factory artifacts.  Then dinner is served in the Nonsuch gallery with a short trip orientation.  The shuttle will leave the hotel for the tour and dinner at 4:30 pm.  You will return back to the hotel to prepare for your early morning departure.

Includes: dinner
Day 2

- Arctic Frontier Arrival!

You will depart Winnipeg for Churchill early in the morning on Calm Air International. You will be greeted in Churchill by your Churchill Wild host, who will shuttle you to the Polar Inn, which will be home base for your two days in this unique community. After settling in, you will enjoy a hearty brunch in a local restaurant, where your local guide will introduce you to your itinerary for the next two days.

After brunch you will be brought to the docks of the local Churchill River for several hours of frolicking with the belugas in your kayak, with your guide in an accompanying zodiac. An afternoon tea will refresh you for your late afternoon guided tour of the historic Prince of Wales Fort, which served as the stronghold of the Hudson Bay Company's grip on the early fur trade. Your day's activities will conclude with a relaxing dinner at one of Churchill's favourite dining spots. Excursion times for your Churchill adventures will vary with the tides in order to maximize your time with the belugas.

Includes: breakfast, lunch, dinner
Day 3

- Historical Immersion and more Marine Adventures!

You will have an early start to the morning with a healthy breakfast bar set up at your hotel, following which you will catch the early morning high tide for a guided tour of the estuary and an optional swim with the belugas. A delicious lunch will follow at the local favourite lunch spot, Gypsy's Bakery & Restaurant. Their baked delicacies yield a special delight, knowing that the assembly of fresh ingredients involves careful logistic planning well beyond a simple visit to a local super market!

The afternoon will provide you with an opportunity for a second kayaking encounter with the belugas, or allow for some free time to wander about the unique shops of this northern port town. Late afternoon provides time for visiting the excellent Parks Canada museum located in the historic train station, and the award winning Eskimo Museum. Your Churchill visit will be completed with a gourmet dinner hosted by local resident Helen Webber in her home. Helen has a multi-generational connection with this northern community going back to the fur trade, and you will enjoy her culinary talent first hand while also taking home your meal in the form of a cookbook from her bestselling series "Blueberries and Polar Bears".

Includes: breakfast, lunch, dinner
Day 4 -7

- Nature trekking, polar bears and magnificent photography!

Day 4 begins with a scenic flight from Churchill over the coastal flats of Hudson Bay before arriving at Nanuk Polar Bear Lodge. Hot breakfasts will generally be served at 8:00 a.m. and your outings will begin at about 9:30 a.m. Lunch will either be served at the Lodge or enjoyed out on the land. Daily outings may include the following, depending on weather and ground conditions:
Coastal exploration in our specially designed tundra "rhino" (you'll see!) to the tidal flats and Hudson Bay shoreline. Lunch and a tea boil are served around a campfire.
An immersive tour of the coastline of Hudson Bay to photograph polar bears and other abundant wildlife in their unique environment.
Exploring the river deltas and vast coastal beach ridges of this pristine area.
Staying close to the Lodge to take advantage of opportunities that present themselves as the day unfolds, to photograph polar bears and other wildlife. 
Appetizers and cocktails are served at 6:00 p.m. and dinner is served at 7:00 p.m. During the evening there will be an informative lecture, slide show presentation, or informal visiting. Churchill Wild staff will monitor aurora borealis after dark if conditions are optimal and will provide a gentle wake-up call to ensure you don't miss any opportunities to witness and photograph this spectacular Arctic phenomenon.
Includes: breakfast, lunch, dinner
Day 8

- Last minute wildlife viewing and reminiscing in Winnipeg!

This morning you will take advantage of last minute photo opportunities, pack your gear and prepare to head home. Lunch will be in Churchill today and you will be provided a voucher. You will depart Churchill for Winnipeg on Calm Air later in the afternoon. Upon arrival, collect your bags, head out of the arrivals doors and look to your right. THE GRAND Winnipeg Airport Hotel by Lakeview is only a two minute walk away.

Includes: breakfast
Day 9

- Homeward bound!

After a restful sleep you will pack your bags in preparation for your flight home. You will also enjoy a breakfast at your hotel before your trip back to reality.

Includes: breakfast