The wildlife adventure vacation of a lifetime.
"The Arctic Safari at Seal River Lodge and Schmok Lake Lodge exceeded every expectation, which is very rare indeed." — Ed50_13, Johnstown, Colorado, TripAdvisor Review
Dates & Rates | Location | Itinerary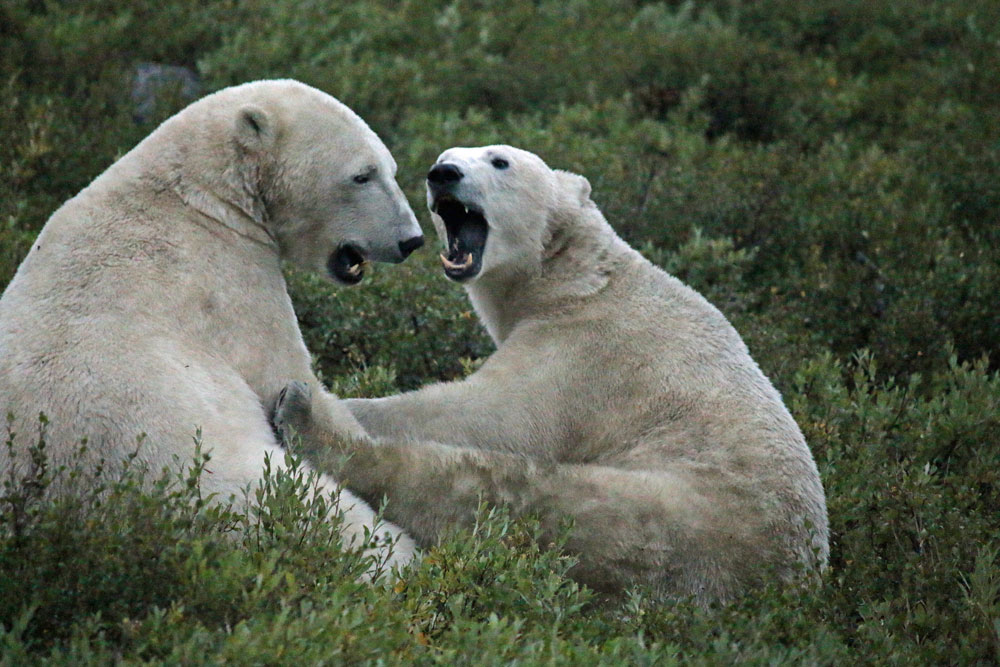 Your Arctic Safari takes place in Canada's last remaining wilderness — from the great tundra plains known as The Barren Lands, through "The Land of Little Sticks" and finally down to the rugged Hudson Bay coastline, home of the mighty polar bears.
Our most ambitious adventure to date, the Arctic Safari is a wildlife encounter second to none, with endless photo opportunities and experiences. You'll cover up to 20,000 square km of the wildest regions in the Arctic, home to wolves, caribou, moose, three species of bears (polar, black and grizzly), Arctic and colored fox, wolverine, beaver, pine marten and a myriad of bird life.
The Arctic Safari includes a fly-out trip to experience the largest caribou migration in North America, hiking among the polar bears, opportunities for northern lights viewing and chances to see polar bears, black bears, grizzly bears, wolves and other Arctic wildlife. All set on a kaleidoscopic background of spectacular fall colors!
If that's not enough try finding some energy to stay up for the finest light show on earth. We live in the best Aurora Borealis viewing zone in the Arctic! Listening to the spine tingling howls of a hungry wolf pack while being mesmerized by the dancing Aurora Borealis can be a life-changing experience.
Of course it can't hurt that you have just finished a delicious meal at our luxury Seal River Lodge and you're lounging outside by a camp fire sipping a glass of wine and watching the Northern Lights! This uniquely Canadian adventure will touch you like no other wildlife safari can.
From our rugged, cozy caribou camp on Schmok Lake to the Arctic luxury of Seal River Lodge, we will pamper you with the finest service, guides, accommodations, and cuisine found north of the Canadian tree line.
Truly the adventure vacation of a lifetime.
Arctic Safari - Dates and Rates
2018 DATES
September 4 – 12
September 6 – 14
September 10 – 18
| Price (per person) | Single Private Room | Children |
| --- | --- | --- |
| 2018: $12,995 CAD | $24,095* CAD | $11,695 CAD |
Prices are subject to taxes of 9%. Children from ages 8 to 12 qualify for the child rate.
* Single guests can sign up to share a room with another person of the same gender at the regular rate per person based on double occupancy. If a single guest prefers to have a private room option we also have a single private room rate as listed above. This rate guarantees a private room at the Lodge as well as at the hotels required within the package.
Location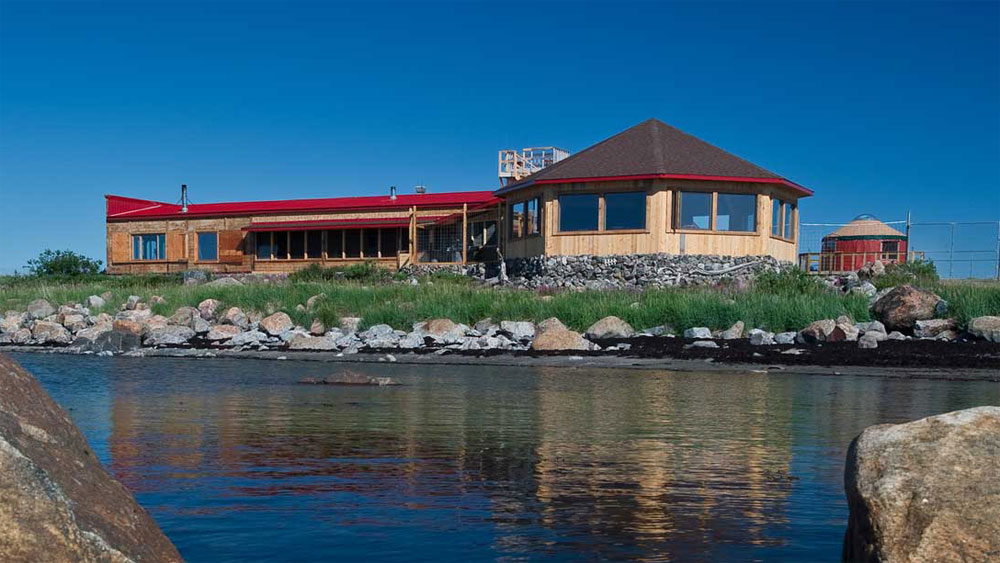 A recent inclusion in the prestigious National Geographic Unique Lodges of the World, Seal River Heritage Lodge is located 60 km and 30 minutes north of Churchill by plane, deep in the heart of polar bear country.
An authentic wilderness lodge with all the comforts of home, Seal River Heritage Lodge is ideally situated on the shores of Hudson Bay near the Seal River estuary, where thousands of beluga whales gather every summer as polar bears walk the coastline.
Seal River Heritage Lodge maximizes ground-level polar bear and wildlife viewing and offers spectacular coastal views of Hudson Bay via nature trails, a lodge viewing tower, and expansive picture windows.
Whether you're hiking, dining, or relaxing at Seal River, you'll be able to observe polar bears and other wildlife at eye level, like no adventurer on a Churchill town-only package can.
Intimate, thrilling, up close and personal.
Itinerary
9 Days, 8 Nights
The package includes two nights in Winnipeg, four nights at Seal River Heritage Lodge, two nights at Tundra Camp, as well as round-trip airfare between Winnipeg, Churchill and our Lodges.
Day 1

- Arrive in Winnipeg

Arrive in Winnipeg where you will enjoy a relaxing stay at our choice hotel, THE GRAND Winnipeg Airport Hotel by Lakeview. At 7:00 pm a dinner will be held at the hotel, where you will meet your group and your adventure specialist. You will need your rest for your early morning departure to Churchill.

Includes: dinner
Day 2

- Off to Seal River Heritage Lodge

Arrive in Churchill by air, where one of our expert staff will meet you at the airport and provide you with instructions regarding your morning transfers. Your flight will take you northwest along the rugged Hudson Bay coastline to the finest polar bear viewing eco-lodge on the planet, Seal River Lodge. There will be endless visuals en route, so keep those eyes open for polar bears, caribou and other wildlife. Arrive at the Lodge, meet your hosts, check into your private room and prep that camera gear. Your guide will provide you with a brief orientation and then it's time to get out on the land!

Includes: breakfast, lunch, dinner
Day 3 - 7

- Tundra Trekking, Hudson Bay Coastline, Tidal Flats, Arctic Ocean

In the coming days you will enjoy the true wildness of this adventure. Breakfast will be served at 8:00 a.m. and lunches are typically held at the Lodge. Dinner is served at 7:00 p.m. Meals may be delayed in favour of wildlife viewing and photo opportunities! This adventure targets polar bears, possible grizzly and black bears, caribou, wolves, Arctic fox, a beluga whale migratory fly-over, migratory bird life (millions!), and much more in a backdrop of spectacular fall colors.

Your experienced guide is professional and knowledgeable about the land and the wildlife, so be prepared to do some learning. A charter bush plane will be used to access Schmok Lake Caribou Camp* to encounter the migrating masses of Canadian Central Barren Ground caribou, which can number in the hundreds of thousands in the area.

Includes: breakfast, lunch, dinner
Day 8

- Say Goodbye to the Lodge

After another hearty Lodge breakfast we will begin air transfers back to Churchill. Have cameras ready again for your return flight as it affords excellent opportunities for great aerial shots. Today is your last day in the Churchill region.

Upon your return to Churchill, our representative will store your luggage. The balance of the day is then free for browsing the shops and exhibits of Churchill. Local places such as Cape Merry, the Port of Churchill, the Eskimo Museum, the Polar Bear Holding Compound (otherwise known as the Polar Bear Jail), as well as the Parks Canada exhibit are all of great interest. Please refer to your "Top Things to Do and See" list that we provided.

Your flight south to Winnipeg will take place this evening and we hope to see you back at one of our eco-lodges for more bear viewing very soon! Upon arrival, collect your bags, head out of the arrivals doors and look to your right. THE GRAND Winnipeg Airport Hotel by Lakeview is only a two minute walk away.

Includes: breakfast, lunch, dinner
Day 9

- Back to Reality

After a restful sleep you will pack your bags in preparation for your flight home. You will also enjoy a breakfast at your hotel before your trip back to reality.

Includes:

Churchill Wild reserves the right to make changes to the Arctic Safari Itinerary due to weather and logistical complications that can arise from traveling in the north and to remote locations.