See polar bears in the wild. At two different luxury ecolodges!
"Thank you, thank you, thank you for an unforgettable few days! What a special place!" — Nathan Stenbauer, Columbia, Filmmaker
Dates & Rates | Location | Itinerary
The second of our dual-lodge offerings, this late fall safari takes you to Seal River Heritage Lodge and Nanuk Polar Bear Lodge to experience the best of what we have to offer. The diversity of wildlife and stunning wintry landscapes are sure to take your breath away and the addition of a photo leader makes this safari a great option for amateur and aspiring photographers.
On the Fall Dual Lodge Safari you'll have access to two populations of polar bears, wolves, moose, and more, as well as opportunities for some spectacular northern lights photography. You'll take scenic flights over Hudson Bay and along the coast, and spend eight nights at two of our luxury ecolodges, which are located on vastly different landscapes. You could find yourself in fall colours, or with snow on the ground, or somewhere inbetween. You'll receive on-site instruction and tips from a professional wildlife photographer and informative evening presentations on the local wildlife and culture, the latter following Arctic gourmet cuisine – full course meals complete with delectable desserts!
Meet Your Photo Leader: Andy Skillen
Andy has been photographing the natural world since he first got his hands on a camera at the tender age of seven. His travels have taken him to some of the world's most spectacular wildlife regions and allowed him to witness sights and behaviour most of us could only ever dream of.
A devoted philanthropist, Andy uses his gift to ensure future generations have a chance to experience our planet in the same way he has, by supporting global conservation projects through the David Shepherd Wildlife Foundation.
A natural teacher and charismatic leader, Andy strikes the perfect balance of technique and artfulness and is sure to help you capture your Churchill Wild experience.
Fall Dual Lodge Safari - Dates and Rates
2018 Dates
October 13 – 23
October 17 – 27 – Photoleader Andy Skillen
| Price (per person) | Single Private Room | Children |
| --- | --- | --- |
| 2018: $15,995 CAD | $29,595* CAD | $14,395 CAD |
| | | |
Prices are subject to applicable taxes which are 6.5% for non-residents and 9% for Canadians. Children from ages 8 to 12 qualify for the child rate.
* Single guests can sign up to share a room with another person of the same gender at the regular rate per person based on double occupancy. If a single guest prefers to have a private room option we also have a single private room rate as listed above. This rate guarantees a private room at the Lodge as well as at the hotels required within the package.
Location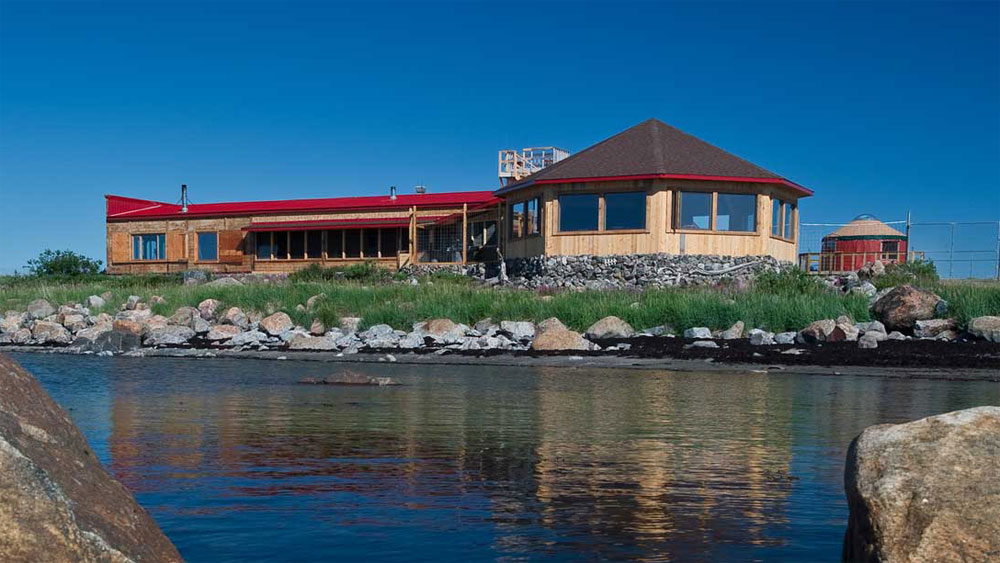 A recent inclusion in the prestigious National Geographic Unique Lodges of the World, Seal River Heritage Lodge is located 60 km and 30 minutes north of Churchill by plane, deep in the heart of polar bear country.
An authentic wilderness lodge with all the comforts of home, Seal River Heritage Lodge is ideally situated on the shores of Hudson Bay near the Seal River estuary, where thousands of beluga whales gather every summer as polar bears walk the coastline.
Seal River Heritage Lodge maximizes ground-level polar bear and wildlife viewing and offers spectacular coastal views of Hudson Bay via nature trails, a lodge viewing tower, and expansive picture windows.
Whether you're hiking, dining, or relaxing at Seal River, you will be able to observe polar bears and other wildlife at eye level.
Intimate, thrilling, up close and personal.
Nanuk Polar Bear Lodge
Nanuk Polar Bear Lodge is located 250 km southeast of Churchill, Manitoba on the Hudson Bay coast near the historic York Factory. A relatively new destination offered by Churchill Wild, we are particularly proud of this lodge due to the phenomenal wildlife access it provides.
Recent upgrades to Nanuk Polar Bear Lodge include a new lounge and dining area with panoramic views of Hudson Bay, and a cozy fireplace for added ambiance. Heated private guest rooms with ensuite bathrooms are cozy, wild and perfectly comfortable.
Nanuk's star attractions are polar bears – more than you are likely to encounter anywhere else on earth, and we have been overwhelmed by the abundance of bears and other wildlife in the area. Sightings have consistently exceeded our expectations. Additionally, Manitoba Conservation officials recently discovered a large number of denning females in the area that may be equal or great in number than those found in Wapusk National Park.
Itinerary
11 Days, 10 Nights
Day 1

- Arrive in Winnipeg for your overnight stay

Arrive in Winnipeg and head to The Grand, located just outside the main terminal of the airport. A Churchill Wild representative will host an informative orientation dinner at your hotel this evening where you will have the chance to meet your fellow travelers and ask any last-minute questions.

Includes: dinner
Day 2 to 5

- Seal River Heritage Lodge

After a restful night in Winnipeg you will depart for Churchill on Calm Air. Upon arrival in Churchill, be met by our expeditor who will explain how the charters to the Lodge will work. After a short flight over the Bay, arrive at Seal River Heritage Lodge where you'll be greeted by your guides and hosts who will show you to your rooms. After settling in, enjoy a delicious lunch before your guides provide you with an orientation on travelling safely in polar bear country and then you'll head out for your first wildlife hike!

The remainder of your days at Seal River will start around 8:00 am with a hot breakfast followed by your morning hike around 9:30 am. After a few hours out on the tundra, seeking out polar bears and other Arctic wildlife, you'll head back to the Lodge for lunch. Evenings start with appetizers, followed by a full course meal and time to relax in our lounge and enjoy a presentation by your photo leader or one of our knowledgeable guides.

Bedtime is at your leisure. We monitor the Lodge area all night so be prepared to have your sleep cut short by a nocturnal visit by one of the great ice bears (or by one of
our dazzling displays of northern lights!)

Includes: breakfast, lunch, dinner
Day 6 to 9

- Nanuk Polar Bear Lodge

Time to head to the second stop of your dual-lodge experience! Nanuk Polar Bear Lodge is about 250 km southeast of Churchill and the 75 minute charter flight will include a flyover of York Factory, the hub of the historic fur trade. Upon arrival, you will once again be met by your host(s) and given the opportunity to settle into your rooms.

Your days at Nanuk will be filled with more exciting wildlife encounters. The wildlife at Nanuk is incredibly diverse and includes polar bears, wolves, moose, caribou, Arctic and coloured fox, and Arctic hare. We use custom-designed, open-air "Tundra Rhinos" to get our guests along the coast and, across the many small rivers and creeks that lead to the Bay.

Your evenings at Nanuk will be much the same as at Seal with plenty of time for visiting, relaxing around the fire, sharing photographs and enjoying informative presentations by your guides and/or photo leader.

Includes: breakfast, lunch, dinner
Day 10

- Return to Winnipeg

After another hearty Lodge breakfast, we will begin transfers back to Churchill. Have your cameras ready for the return flight as it affords excellent opportunities for great aerial shots. Today is your last day in the Churchill area.

Upon your return to Churchill, our representative will store your luggage. The balance of the day is then free for browsing the shops and exhibits of Churchill. Local places such as Cape Merry, the Port of Churchill, the Itsanitaq Museum, the Polar Bear Holding Compound (otherwise known as the Polar Bear Jail), as well as the Parks Canada exhibit are all of great interest. Please refer to you "Top things to do and see" list we provided.

Your flight south to Winnipeg will take place this evening and we hope to see you back at one of our Eco-Lodges for some more bear viewing very soon! Upon arrival, collect your bags, head out of the arrivals doors and look to your right. The Grand Hotel is located across the way only a two minute walk.

Includes: breakfast, lunch, dinner
Day 11

- Depart Winnipeg

Today you will fly home on your own travel arrangements, marking the end of your adventure with Churchill Wild and the beginning of a lifetime of savoring the experiences of the Arctic.

Includes: