Deep in the heart of polar bear denning territory.
"I have been traveling non-stop for three years around the world… my stay at Nanuk Polar Bear Lodge was the best trip of my life." — Lili G. Berlin, Germany, TripAdvisor Review
Dates & Rates | Location | Itinerary
Your Hudson Bay Odyssey takes place at our remote Nanuk Polar Bear Lodge, deep in the heart of polar bear denning territory, where the boreal forest ends and the Subarctic begins. It is from here that we can provide you with the best possibilities on the planet with regards to encountering polar bear mothers and their adorable cubs.
This unique convergence of ecosystems, nourished by the Hudson Bay coastal waters, is home to polar bears, black bears, wolves, moose; a diverse array of other wildlife, flora and fauna; and a remarkable diversity of bird species. Being uniquely located on the migration fly-way, the massive flocks filling the air at the commencement of the fall migration can be awe inspiring.
The Hudson Bay Odyssey involves daily treks through the pristine terrain of the Cape Tatnam Wildlife Management Area, where you will be provided with once-in-a-lifetime photo opportunities, particularly during fall excursions when brilliant colours are on display. Watch the video below to see where your adventure will take you!
Nanuk Polar Bear Lodge features a new dining and lounge area with large picture windows overlooking the magnificent Hudson Bay, a warm and cozy home base which we can unequivocally say provides the best Arctic luxury around! And keep your camera ready to go, as it is not uncommon to have wildlife pay a visit to the Lodge!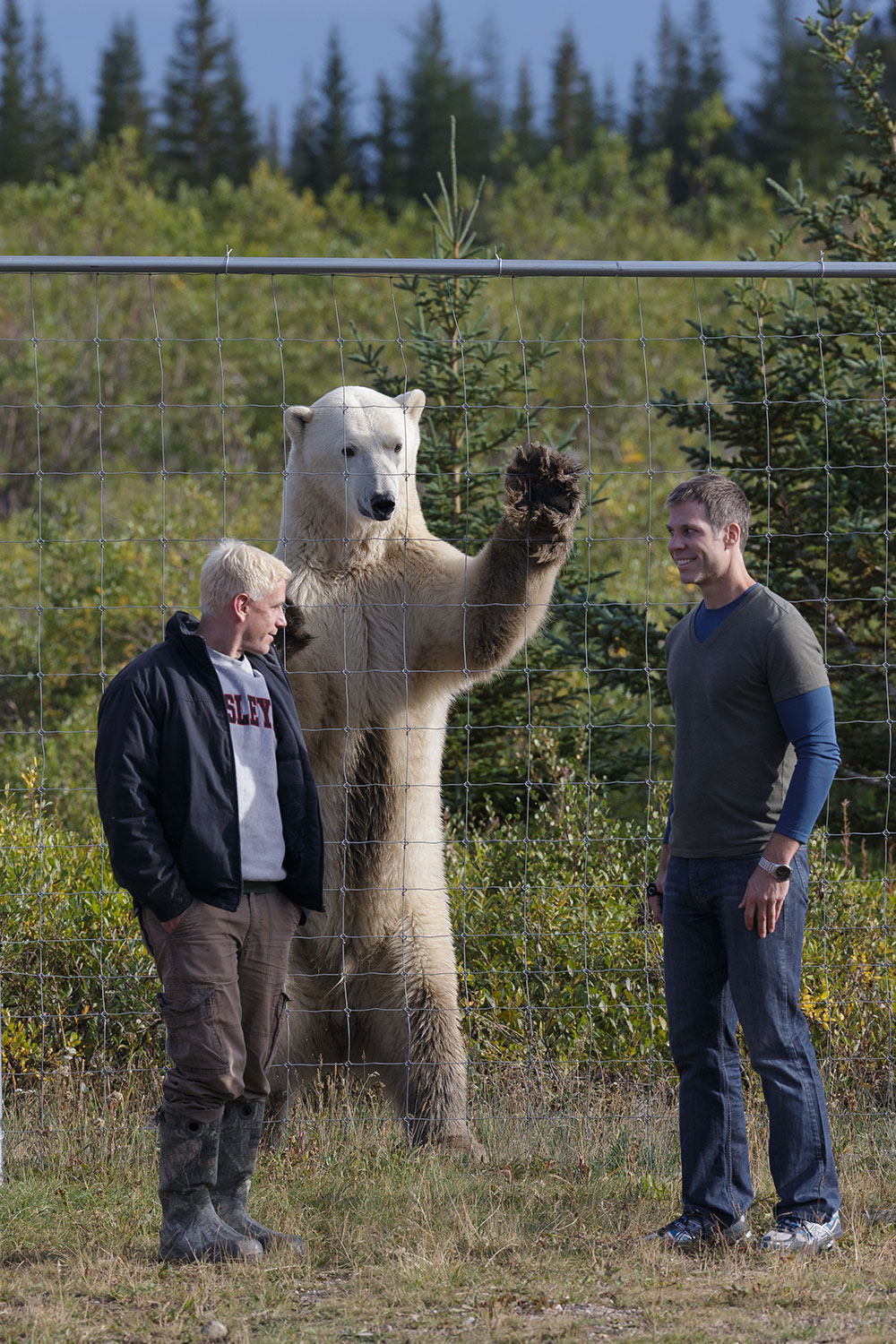 Witnessing the maternal instincts of polar bears is a life-defining experience, and while this access cannot be guaranteed, there is no better place on earth to increase your chances of observing this behavior than at Nanuk, where we have consistently encountered mothers and cubs.
You will be forever changed by your Hudson Bay Odyssey experience, and awed by the ease in which bears, wolves and other species flourish in an unforgiving circle of life. We invite you to join us, on an adventure to remember!
Hudson Bay Odyssey - Dates and Rates
2017 Dates
Aug 31 – Sep 6 – Photo leader Jad Davenport – $10,195 – Single male share only 
2018 DATES
August 11-17
August 15-21
August 27-September 2
August 31 – September 6
September 9-15
September 13-19
September 17-23
September 21-27
Exciting beluga encounters available as an add on for August departures!
Make the most of your trip by adding on a day in Churchill to snorkel and/or kayak with beluga whales! Cost is estimated at $500 CAD per person, plus applicable taxes. This price includes your hotel stay in Churchill as well as a guided tour. Talk to your adventure specialist for details or to book!
| Price (per person) | Single Private Room | Children |
| --- | --- | --- |
| 2018: $9,995 CAD | 2018: $18,495* CAD | 2018: $8,995 CAD |
Prices are subject to taxes of 9%. Children from ages 8 to 12 qualify for the child rate.
* Single guests can sign up to share a room with another person of the same gender at the regular rate per person based on double occupancy. If a single guest prefers to have a private room option we also have a single private room rate as listed above. This rate guarantees a private room at the Lodge as well as at the hotels required within the package.
Location
A recent inclusion in the prestigious National Geographic Unique Lodges of the World, Nanuk Polar Bear Lodge is located 250 km and 75 minutes southeast of Churchill by plane, deep in the heart of polar bear country.
An authentic wilderness lodge with all the comforts of home, Nanuk Lodge is ideally situated on the shores of Hudson Bay near known polar bear denning territory allowing for phenomenal access to mothers and cubs-of-the-year.
Nanuk maximizes ground-level polar bear and wildlife viewing and offers spectacular coastal views of Hudson Bay via nature trails, viewing decks, and expansive picture windows.
Whether you're hiking, dining, or relaxing at Nanuk Polar Bear Lodge, you will be able to observe polar bears and other wildlife at eye level.
Intimate, thrilling, up close and personal.
Itinerary
7 Days, 6 Nights
The remoteness of Nanuk Polar Bear Lodge provides you with exclusive access to one of the most pristine wilderness areas in the world. It is also strategically located in very close proximity to significant polar bear denning activity.
Day 1

- Anticipation Builds During your Overnight Stay in Winnipeg

Arrive in Winnipeg, where you will enjoy a relaxing stay at our choice hotel, THE GRAND Winnipeg Airport Hotel by Lakeview. At 7:00 pm a dinner will be held at the hotel, where you will meet your group and your adventure specialist. You will need your rest for your early morning departure to Churchill.

Includes: dinner
Day 2

- The Adventure Begins!

You will depart Winnipeg for Churchill early in the morning on Calm Air International. Upon your arrival in Churchill you will transfer to a private charter for your one hour flight to Nanuk Polar Bear Lodge. You may have some excellent opportunities for aerial photography during the flight, so make sure you have your camera ready!

Upon arrival at Nanuk Polar Bear Lodge, your hosts will provide a tour and show you to your room to get settled. Lunch is served shortly after your arrival, and you will then be given an orientation regarding your stay in polar bear country.

Your first day includes an interpretive walk on the inland Palsa Bogs and Tundra Ponds adjacent to the Taiga Forest and the Hudson Bay coastline. Appetizers and cocktails are served at 6:00 p.m. and dinner is served at 7:00 p.m. During the evening there will be an informative lecture or slide show presentation narrated by one of Churchill Wild's knowledgeable guides or staff. If it is a clear night you may also have a chance to view one of the spectacular aurora borealis displays common at this latitude.

Includes: lunch dinner
Day 3, 4, 5

- Nature Trekking, Polar Bears and Magnificent Photography

Breakfast will generally be served at 8:00 a.m. and your outings will begin at about 9:30 a.m. If there are bears near the Lodge your tour may be delayed to take advantage of the photo and observation opportunities. The option is also always available for anyone to stay behind to take photos of the wildlife around the Lodge and relax. Daily outings may include the following, depending on weather and ground conditions;

#1 The average day includes morning and afternoon excursions with lunch served either at the Lodge or out on the trail.

#2 An ATV coastal tour to the tidal flats and Hudson Bay shoreline. Lunch and a tea boil are served around a campfire.

#3 A full day tour of the coastline of Hudson Bay to photograph polar bears and other abundant wildlife in their unique environment. Lunch and a tea boil are served around a campfire. After lunch you will explore the river deltas and coastal eskers.

#4 Staying close to the Lodge to take advantage of opportunities that present themselves as the day unfolds, to photograph the King of the Arctic and other wildlife. Visitors are invited to immerse themselves in the Arctic environment. Lunch is served at the Lodge on this day.

Appetizers and cocktails are served at 6:00 p.m. and dinner is served at 7:00 p.m. During the evening there will be an informative lecture, slide show presentation, or informal visiting. Churchill Wild staff will monitor Aurora Borealis after dark if conditions are optimal and will provide a gentle wake-up call to ensure you don't miss any opportunities to witness and photograph this spectacular Arctic phenomenon.

Includes: breakfast lunch dinner
Day 6

- Last Minute Wildlife Viewing and Reminiscing in Winnipeg

After another hearty Lodge breakfast, we will begin air transfers back to Churchill. Have your cameras ready for the return flight as it affords excellent opportunities for great aerial shots. Today is your last day in Churchill.

Upon your return to Churchill, our representative will store your luggage. The balance of the day is then free for browsing the shops and exhibits of Churchill. Local places such as Cape Merry, the Port of Churchill, the Eskimo Museum, the Polar Bear Holding Compound (otherwise known as the Polar Bear Jail), as well as the Parks Canada exhibit are all of great interest. Please refer to your "Top Things to Do and See" list we provided.

Your flight south to Winnipeg will take place this evening and we hope to see you back at one of our ecolodges for more polar bear viewing very soon! Upon your arrival into Winnipeg, collect your bags and settle in at THE GRAND Airport Hotel for a restful night filled with cherished memories.

Includes: breakfast
Day 7

- Homeward Bound

Today you will fly home on your own travel arrangements, marking the end of your adventure with Churchill Wild and the beginning of a lifetime of savouring the experiences of the Arctic.

Includes: breakfast